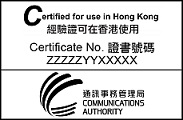 The type approval for telecommunications products in Hong Kong differs from the procedure in mainland China. The Hong Kong Telecommunications Equipment Evaluation and Certification (HKTEC) Scheme is handled by the office of Communications Authority (OFCA) established in April 1, 2012. 
Certification requirement of telecommunication equipment consists of two parts, i.e., "Voluntary Certification Scheme" (VCS) and "Compulsory Certification Scheme" (CCS). Certification under the CCS is compulsory. Such equipment must be certified to comply with corresponding technical specifications. Certification under the VCS is voluntary. Such equipment should ensure that it complies with the relevant technical specifications, but it does not have to demonstrate the compliance with testing report.
Working closely with certified body recognized by OFCA, ATMCL is able to guide our customer through the HKCA procedure.